Hey there fellow
bloggers
! right now i have the pleasure of introducing you guys to 1 of the hottest hip hop trios
coming
out of Harlem New York & they go by the name of "
SQUARE OFF
". If you
didn't
know about them, well now you know! Sons of hip hop pioneer Doug E. Fresh, this group consists of Slim(left), Gleamz (center),& Trips (was sup punk!)
Check out their myspace page at myspace.com/squareoff
and some of their music inside of the post!
their edgy rhythmic tunes are sure to brighten up your mood at any time of the day..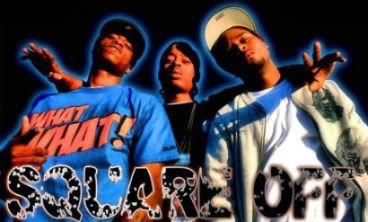 BIO


This teenage rap group has opened shows for Lil Scrappy, Romeo and Doug E. Fresh. They have performed twice at the Apollo, Tom Joyner's Events at Walt Disney World,several times at Mount Vernon Week and Harlem Week. Square Off has been featured in XXL (Lil Wayne Cover) and the premiere issue of Hy Grade Magazine.

The first single "WE RIDIN" is a hot record produced by DJ CMS and features KRAYZIE BONE on the track it has a down south feel while still staying true to their New York style. "It's a track that can be played anywhere and everyone will feel it", states group member Gleamz. Plans for the future include starting their own record label, creating a clothing line and establishing a foundation for a non-profit school of music where future generations can go to learn aspects of the industry including writing, engineering, producing, etc.

Being the sons (Trips and Slim) and the brother-in-law (Gleamz) of the World's Greatest Entertainer and originator of the human beat box, these young men have a lot to live up to and undoubtedly expectations run high. A few things are certain... you can expect them to work hard to earn their place amongst the hip-hop heavyweights, you can expect them to uphold the high musical and performance standards set by Doug E. Fresh, and you can expect to be hearing a lot more from Square Off in the near future and for many years to come.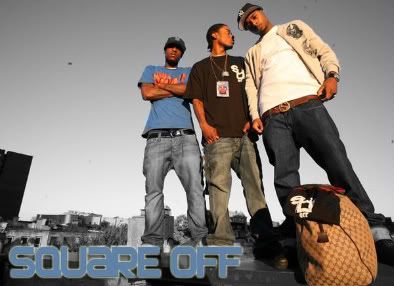 SQUARE OFF