Not only is it great that we have our first African American President,(woot!! OBAMA lol) but it was a great feeling starting off the new years in L.A, on stage in front of 30,000 people, alongside our homie Junior Sanchez. Shortly after that it was also a blessing to arrive back in NY and see our music video "NEW ERA" being played as the new joint of the day on 106 and Park..
We arrived in LAX on the morning of DEC 31, I was super excited to get away from the cold weather in NY (felt like it was below 9 out here lol)...


As we arrived at the Sports center arena, we were directly escorted to our little v.i.p tent behind the stage. the walk to the stage was crazy as we walked around a crowd of 30,000 party goers, which at the time were mostly drunk already lol.





we then began having our own little party inside our cabana, and taking some flixx, as we waited for our turn to rip the stage..



Aahmek Richards And RKZ



Rocky & I





It was CRAZY!! you could see the crowd of people for blocks away, this was our biggest crowd yet, and we loved it, i was a bit nervous at first, but as soon as i hit the stage it all went away. When the crowd started singing along to our "YOUR TO COOL" track (produced by Junior Sanchez) i knew at that moment that we had acccomplished one of our many long awaited goals! the crowd loved us, and we loved them back just as much for that...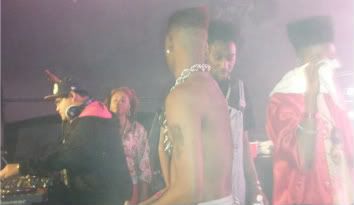 heres a small clip of a portion of the performance



(no title) -